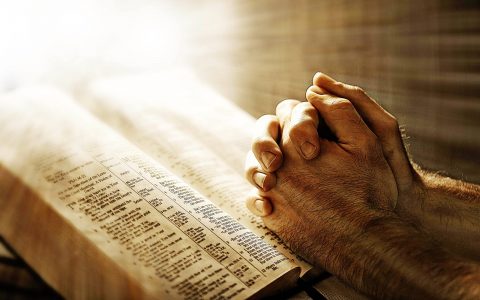 1 John 5:14 ~ This is the confidence we have in approaching God: that if we ask anything according to his will, he hears us.
Each week in our worship service we take the time to share our thanks to God and our burdens.  
The following is our ongoing prayer list:    Thanks to all for your prayers! 
There is also a special time of prayer at 5:30pm on Thursdays in the chapel.    Join Joni for these special prayer times.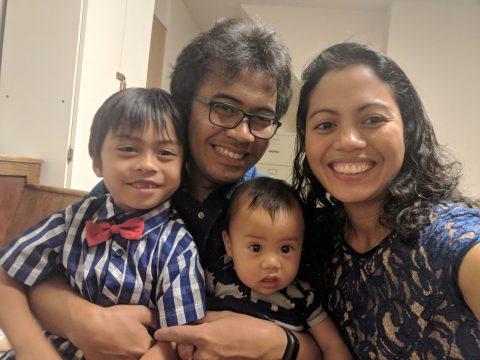 Joni & Ping Digaum with J.D. & J.C.
March 21
Nikko - My sister who is 85 was ill with pneumonia.  She went home from the hospital.  My nephew had open heart surgery and has also gone home..  I also have an unspoken request.
Cindy - Carol's surgery went well and she does not need any other treatment for the cancer.
Van - My wife has family in Italy.  They are doing OK
Brian - Praise that our family received a box of food.   Also glad DAvid is doing better.
David - Community services received a brand new freezer.  Some food pantries are closed.  We are not closing - just doing things in different ways. 
Jodi - The preschool only had a few kids this past week and if this continues, we would have to close.  I emailed parents and it looks like we may have enough to stay open.
Pastor Terry - My sister is an ER nurse and they are running out of supplies.  Some are ready to quit.  Please pray.
March 14
Nikko Hess' sister who is 88 is in critical condition in ICU isolation with severe pneumonia.  This is her 3rd bout with this.  Please keep her in your prayers....
Brian - I am grateful and blessed.  I had 11 years working for Good Samaritan and then they were taken over by another company and I have now lost my job.
But God still reigns.  Thanks to my church family and prayer.  I claim HIs promises and He knows the plans for the future and pray for His soon return.
Reesie - I glad my teeth are loose.
Martha - Praise that Austin is at Gem STate Academy at a youth conference.
Jessica - Praise that Alexa is home safe.  Walla Walla is closed until April due to the coronavirus.  
Also, we had a new 1st grader and her grandparents and mom had an altercation and the mom took her and left.  The grandparents are concerned.  They don't know where she is. She has been in 5 or 6 schools just this year.  Please pray for her.
Nikko - Praise that David is here after 15 days of being sick.  Also Jim Pfost is sick, Karen Roosenberg broke her shoulder and needs help with food. 
We also would like to start another outreach with the mobile food bank in  Eagle, but will need volunteers.
​Nancy - Praise we are here and healthy.  Keep praying and let your light shine.
Jonathan - Heidi is with Karen today taking care of her.  And I'm taking care of the kids!  Praise God we have a fmaily to fall back on.  Karen is in a lot of pain.  She has to be immobile for 6 weeks.  Keep her in your prayers and also their ministry.  God knows the bigger picture.  Trust Him.
Kelly - Keep Sky in your prayers and Ryan.  Going through some tough stuff.  
Also pray for those who are infected with the virus.  Praise God that maybe Jesus will come soon?
MarkKay - Pray for those at the Youth Rally this weekend. They have a dynamic speaker and pray the Holly Spirit is there for our youth.
March 7
Jonathan - Praise - Hazel is recovering from her tonsils out.
Karen Roosenberg was trying a hoverboard and she fell and broke her shoulder.
Jessica - Praise - New students started One in 1st, one in 4th.
Sue - Praise for Josh doing well in the military.  Thanks to all for praying for him.
Kelly - Praise our trip to Texas went well and back safe.
Pray for my grandpa Frank who is suffering with Parkinson's, my aunt Karen who comes to help him every weekend and my sis in law and brother who are separated. Megan & Chris)
Sharon - Glad to be back!
Louise - Pray for the families who lost members in the tornados in Tennessee.
February 29
Dave - Prayer request for Greg. He will go through another procedure for his liver.  Pray for the surgeons.
Nikko - Prayer for David.  His hand is healing, but he is sick.
Havilah - Pray for Hazel after getting her tonsils out.  She cries a lot.
Martha - GSAA choir festival is today at 3pm.  Praise for a new girl at school on Monday and another family possibly for next year.
Maggie - Thanks to God for who He is and for special Christian friends.
Pray for a friend who has lost one son to an accident and another to possible murder.  Her husband is not a Christian and can't handle all this.   HIs name is Neil.
Terry - Answered prayer!  Our adopted daughter got an apartment and will be out on her own.
Louise - I had $93 taken out of my bank account and am wowrking with the bank on it.  I was able to find enough money to buy food for the dog.
Visitor - We've moved to the area and we want the Lord to lead us to the right property.
February 22
Jodi - Praise for the good tune ad safe trip I had to South Dakota to see friends I haven't seen in 15 years.....
Also praise for the kids having our service today. It is a real blessing and a shout out to Joni Digaum for arranging it all each time we do it.
Christy - Please pray for Tom as he has a lump on his neck, Bill and Sandy for health problems as well.
Chance - My sister Cheyanne to have a safe trip back from Utah
Louise - Pray for those in China that are being persecuted
Heidi - Hazel will have a tonsillectomy on Thursday
Brian - Appreciate the humility from the Hess's
Kelly - Pray for my nephew Peter.  11 years old and broke his collarbone
Joni - The pathology is back and there is only 1 ml of cancer left and out of the 15 lymph noes they took, only 1 has some cells in it.  I will have radiation
Martha - We have a girl starting back at our school that needs some healing in her life.
Also, remember the Open house at the school this Wednesday
MarkKay - Tina is struggling with an ex-boyfriend. Help her take God as her husband.
Brian - David Hess had to have stitches in his hand this week.
Be with the kids as they travel to Walla Walla today for the Lego Robotics League.
February 8, 2020
Myrna - The dean at Canadian College had emergency surgery and didn't make it.  Please pray for the people at the college.  This is hard on them.  Especially Jeremy, my nephew, was the assistant dean and now is acting dean.
Nikko - I had a visit in Portland with an old friend whose mom passed away.  I also got to witness to my brother and sister-in-law who is fighting melanoma.
Paulo - Praise  Josie & Bob are here.
David - Thanks for your support when NIkko was away!
Josie - Bob's dad had surgery for cancerous thyroid.  They think they got it all.  He will now have radiation.
Joni - Praise - I had surgery for a left mastectomy.  There was a bleed and they had to go back in .  My blood pressure was dropping and heart rate up and had transfusions.  The Lord intervened and I didn't die.  Thanks for your prayers and for your offers of help.
Jodi - Fred & Cierra had a baby boy last Sabbath.
Pat - This is hiring season and I need to find someone for Gem State especially.  Please pray I find the right person.  Also, a friend has cancer and has only 4-6 weeks left.  Please pray for this.
Unspoken request for sinus problems.
January 25, 2020
Pastor Dennis Parks would like us to remember in prayer their friend Roberta Goidman from Salmon who has esophageal cancer. 
Also to pray for the meetings that the Emmett church are having.  "The Final Empire"  seminar from Voice of Prophecy. They had a good showing at their church for this. Pray for this to continue. 
​Nikko - Thanks to all for your calls, etc. when our 10 year old dog, Bandit died.  
Also, David's brother's foot is healed but he has a blood disorder.  pray for him.
Jim - I had chest pain this week and went to the hospital.  They looked in my heart and said there is nothing else they can do.  Need to trusst in the Lord.
Jessica - one of our former students has a health issue.  She is only 15 and has bleeding issues that they can't stop.  Please pray for Chakyrah
Bob - Please pray for my father Jim, he just had surgery to remove a cancerous thyroid.
Brian - Thankful for my wife.  She has a birthday this week.  Pray for her as she travels to Walla Walla for meetings and I travel to Florida for a board meeting.
​Joshua - Pray for my mom. She is sick today.
Wendy  - My sister, Sydney is still having ongoing health issues.
Jodi - Remember the Briggs family at the loss of Mary Baker. She is at peace now, but it's hard to lose someone.
Louise - Pray for those in my building.  That they come to know the Lord.
Paulo - Pray for my dad.