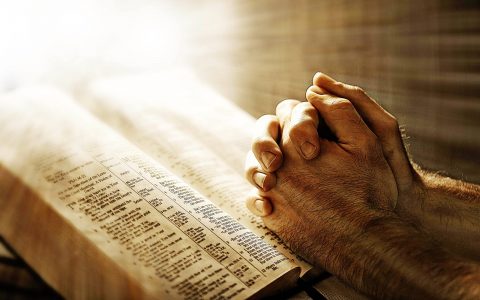 1 John 5:14 ~ This is the confidence we have in approaching God: that if we ask anything according to his will, he hears us.
Each week in our worship service we take the time to share our thanks to God and our burdens.  
The following is our ongoing prayer list:    Thanks to all for your prayers! 
There is also a special time of prayer before Sabbath School each week as well as 6pm on Wednesdays before Mid-week Study.    Join Joni for these special prayer times.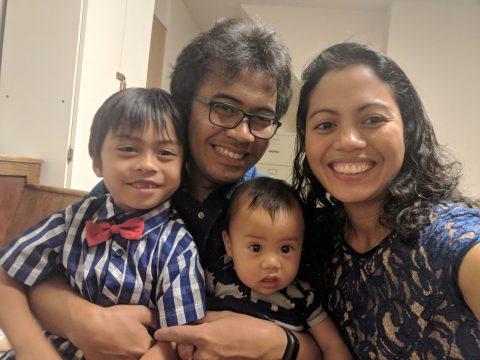 Joni & Ping Digaum with J.D. & J.C.
Special Prayer for Pastor Steve who is in ICU
June 8
Karen - I asked you to pray for my parents and the flooding.  They delayed the opening of the spillway and maybe it won't happen at all!
Nikko - Pastor was moved from ICU to a regular room, but still has headaches, but is improving.  Please pray for them 
Also, Sue Robbins heart surgery went well and she is home.
Dora - Thanks for your prayers for my knee.  I'm walking without a walker now.
Jessica - The students at Walla Walla are having exams this week 
Jonathan - Praise for the time off to get things done around the house, but prayers for a job....  I'm a tile contractor
Sky - Praise that someone donated money so Lyric can go to church camp.  Thanks for the church's kindness.
June 1
Jodi - I'm thankful to Ross for 38 years of marriage, yesterday.
Karen - My parents rely on income from crops and they opened the spillways.  This has flooded the crops and decreased the wildlife as well.  Please pray for the farmers and the wildlife.
Nikko - Continue to pray for the Pastor.  He is serious, high risk and serious Headache.  He has a subarachnoid hemmorage.  Family only for visitors right now.
Jessica - yesterday was the last day of school Please pray for the students during the summer.
Egina - Priscilla is doing much better.  She can't pick up Tyson, but hopefully soon.
Jonathan - I'm between jobs.  Please pray I get another.
Sky - I'm glad to be out in the ocuntry where it is a peacefull place to live.  My boyfriend Ryan and I are struggling.  We need more faith in God.
Louise - Please pray for Tom & Pamela
Sue - Next Wednesday I have heart surgery.  Prayers please.
visitor - I come from CA.  Thankful for my friend Dora.  
Dora - My knee is better.  Glad for my daughter & son-in-law to live with them.  God bless
Visitor - Pray for our nephew in prison.  Robert.  He's supposed to be out in a year.
May 25
Egina-Thanks for prayers for Priscilla. She will be going home soon. 
Sky-Prayer for Ryan. Thankful for his faith and praying that it will continue to grow. 
Brian-Gianna is graduating, and we are so proud of her. 
Vicki-Praying for next door neighbor to not see my husband and me as a threat and relax. 
Susan-Tut is scheduled for surgery on June 18, praying for the doctors. 
Ann-Thank God we made it today. Husband is very weak from chemo. 
Jonathan-It has been a long week, thankful for work and for Sabbath rest. 
Pat-School year is almost over, praise for the teachers. 
Heidi-Continue to keep Caleb in prayer. 
Egmeia-GSAA students, pray for them as they finish out the year. 
Juilan (sp?)-1st time visitor-Praying for the Cambodian people in East Boise to believe in God and not Buddha. 
May 18
Sky - My best friend, Ryan us struggling.  Pray for peace and faith.
Emiy - Praise that we are back safe from Oregon
Vickie - Thanks to whomever gave the Winco gift card.  Our move was not cheap.  It's starting to look and feel more like home though.
Jim - Praise for our 34th anniversary!  
My brother is moving and has 8 people bidding on his house.  Keep praying for him
Louise - Pray for Carolee and her Bible study class and Susan & Pastor 
Kelly - Praise that Nolan is going to 8 years old on Monday.
Nancy - Thanks that Don & Joan and Jeff and others helped me.  Our church family makes a difference in my life.  
David - Praise that Ruth Leslie and Bob owens are here today.
Rebecca - Thanks for your prayers.  I'm walking straight now.  My allergies are good.
Jim - Thanks for the landscaping getting done around the sign.
Visitor - I'm from Cambodia.  My first time here from California.  Pray for me.  I want to get to know you all.
Egina - Priscilla is in the hospital and having triple bypass surgery tomorrow.
Ann - I'm thankful my husband had the energy to come to church.  He will have radiation in July and has had some chemo already.  Please pray for the lord to heal him.
May 11
Dave - I'm thankful for my wife and my birthdays and the Lord has given us another year
Greg will have another procedure on Thursday
Nikko - Glad Ruth Leslie is here
Two unspoken requests and Pray for Sue & Josh Robbins
Sky - Kyle and I have been praying for my family and my mom prayed with me this week!
Ruth - Thanks for your prayers, they got me here.  Thanks to everyonr, I have missed you
MaryKay - We've been praying for help in the prison and we have two more now!  So there are four of us.
Jodi - Praise God, I had my one year follow up mammogram since cancer and it showed no evidence of any cancer!
Virginia - Through strokes and heart attacks and all, we are glad to be here.
Louise -  Pray for Carolee as she is leading a Bible study in CA.  Also for Susan DeLOng to recover and get back with us.
Tim - Pray for Caleb.  He is going through a difficult time.  Also, Mon - Wed we will be presenting at a Daniel 11 conference.  It may prove to be difficult.
Jeff - Pray for Digaums as they travel to the Philippines
Jim - Pray for my brother as he is selling his house and doesn't know what is next.
Also the Upper Grades on their trip to Oregon and thanks and continue to pray for our family.
Paulo - I'm happy my sister is here today.
Kris - My grandmother just died, Edna, Her prayers are proof of answered prayer.  That is why I am here today.  Glad she prayed for me.
May 4
Vickie - My friend Pam has a daughter Holly who has been having TIAs.  She is only 31
Thank you to all who came to help me move...
Josie - My sister-in-law Betty ended up with the breast not being cancerous.
David - Nikko is in CA with family and friends who are not believers.  She would really like to witness. Pray for courage and opportunity
Tim - Keep our ministry in your prayers.  I will be going to a symposium.  There has been division and we are trying to work on how to unify ideas.  We are also in a financial pinch at this time.
Kelly - Nolan had dental surgery on Monday and it went well.
There is a lady that comes to my parent's garage sales that has leukemia.  She is having chemo and hoping for a 3rd remission.  Her name is Erin
Jim - My brother is having to sell his house and move.
Emily has missed some school from being sick.
Louise - I have had a very good experience at the Hess' for 10 days of prayer.  Pray for Pastor and his wife.  Next week is their birthdays.
Paulo - I want to pray for Jerry
Rebecca - I had pain and was so worried.  I needed your prayers.  God is with us always.  He has healed me!
April 27
On 10 days of prayer:
Jim Pfost- thanking God for a deeper spiritual experience
Sky- God is answering all kinds of prayer
Nikko- made me more conscious to pray; very spiritual experience and very helpful
Requests:
Kelly- thankful for church and church service, like today, it's kid's church
Carol- really appreciate leadership in prayer ministry esp this 10 days of prayer. Praise God for what He is doing in this church
Janette- sometimes we question why this and that? Like what Happened in Sri Lanka, but God is in control and we rest in that faith even though we don't understand.
Jim Pigman- pray for my bro as he is in the process of selling the house.
Jim Pfost- grateful for the opportunity to serve the poor during the community service outreach. 
April 20
Thanks for your prayers this week!  Remember 10 Days of Prayer starts on Wednesday at a home near you!
Louise - Pray for Carolee.  She is lonely.  She is giving Bible studies to 6-8 people in her building though.
Brian - Carolee has no car so that makes it harder.  She is doing well, though and has family there.
Carol - I'm extremely excited to come to church and see people here keeping the church going.
Roger - Pray for Joe States family, his grandpa is very sick.
Also, Thanks to Don & Dick for what they are doing for the church sign.
Dora - Thanks for your prayers.  and thanks to my daughter and son-in-law to let me live with them.  We are blessed
Nolan - I was playing football and my picky got bent back and tore a ligament.
Jodi - Many of you know I sing in No Greater Love each year.  This year it really hit me what Peter says at the end about if you love me, feed my sheep.  We are here to love others and to reach out to others.  Through Community services, we can do that.
Jonathan - I'm blessed with kids.  Praise God for children!
Nikko - Pray for out church and 
Lenora - Thanks to God to be here.  Pray for safe travels to Texas next week.  Pray for Sebastian.  He will have surgery on his knee May 1.  And Charity & Troy totaled their car.  
Pat - I have 1 of 2 surgeries done.  Doing OK.  1/2 done!
Jim - Pray for Susan DeLong and the treatment in MN.   Pray for all who are thinking more about the Lord this weekend of Easter.
Danette - I'm glad to be singing in the choir.  I can't find my keys, if anyone finds them.....
Jim - My brother Fred is walking without crutches, he may lose his house because of not working.  Emily is sick too.
Rebecca - Prayer for me.  Have pain.   God does not fail, does not leave us with temptations.
Elizabeth - It is hard with our family back home in Afica,  my brother lost his daughter.  Need prayer.
Precious - Like mom said, it is a tough time for us.  But I praise God He has done a lot for me.  He does what I ask.  He is always there.  My husband is trying to get here, but they say it will take 2 years just to get to the embassy.  Please pray He can come soon.
Mary - It is Passover - I like that word.  When the angel saw the blood and passed over.
April 13
Sky - I have been off medications and needed to be back on but couldn't afford them.  I was able to get on Medicare to afford them now.  Thanks for this church and all your prayers.  They help!
Nikko - Praise God my foot is doing great.  Also Sue Robbins needs our prayers. Her heart rate is way up.
Jim - I'm thankful the weather is warmer and the Meharry's are back
Dora - Thanks for your prayers. The wires and screws are out of my knee
Vickie - Welcome Carol & Roger back.  Please pray for an electrician we can afford to hook up things at our new house.
Roger - My 2nd cousin's husband was killed in an accident.  Her name is Kathleen
David - I'm glad it's warmer and both the Kindopps and Meharrys are back
Roberta - Wes Anderson passed away yesterday
Egina - Thanks to whoever gave us the Winco gift cards!  Please pray for Dennis.  He has numbness in his hand
Patrick - My wallet was pickpocketed in Thailand but it didnt have much in it.  All is well
Pat - .I had surgery on the top of my spine and in ICU for 3 days.  I have another surgery coming
Louise - I hear the prayers for sick and diseases and I am give praise for my health. I'm very grateful.